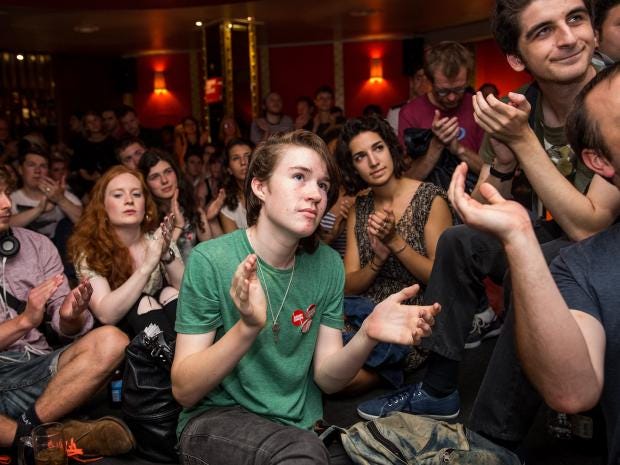 This year's victory for Corbyn amongst the youth of Britain was predictable: most millennials are not attached to conservatism as they have nothing much to conserve.
Young people like me, who don't support Labour, have become a minority. As a young free-marketeer, I find the glorification of communist forces amongst my generation nothing less than unsettling, considering the suffering that the ideology has been responsible for on a global scale. The scarcity of economically liberal young people has led to the few of us who don't support the Corbyn project to be singled out and demonised.
As Dr Stephen Davies, head of education at the Institute of Economics Affairs, highlights: "The actual number of classical liberal or libertarian young people is no different now to what it was at any point in the last 40 years. The difference is that a current of radical leftism has appeared, initially in response to the Iraq war and disillusionment with Blair, which thanks to social media has become much more organised and also less tolerant."
The insular and intolerant nature of the youth involvement can be noted through organisations such as the National Union of Students (NUS), who have consistently nurtured a left-wing bias since its emergence in 1969. With the organisation headed by the left, it stands as a body that feels exclusionary to many right-wing students.
Tom Harwood ran for the NUS presidency earlier this year, offering an alternative to this left-wing bias as potentially the first NUS president to stand as a Conservative supporter since the formation of the organisation. Harwood commented on what he saw as the divisive nature of his election: "The hostility of many within organised student politics to mainstream political viewpoints is staggering. During my NUS campaign I spoke to too many students who had been turned off and even frightened by the intimidation of the hard left minority that controls so much of the student movement. The student movement is divisive, unrepresentative, and unwelcoming. There is no room for opinion that doesn't adhere to the ideologies of the intensely political left-wing groups that control it."
Read More...