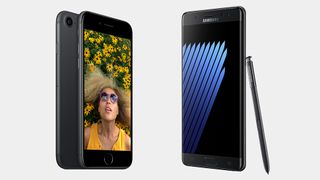 Unless you've been living under a rock for the past few months you must've noticed that we've got two much-anticipated flagship smartphones arriving in the very near future: the iPhone 8 from Apple in September and the Galaxy Note 8 from Samsung in August.
It's the old tech foes, Apple and Samsung, head-to-head again, and for this particular round we think the South Korean company might just have the edge - not only because it gets to go first, but because it could have some tricks up its sleeve that Apple can't match.
Samsung has already planted a marker in the ground with an Unpacked event scheduled for the 23rd of August, and if you want to steal the spotlight away from something or someone else then it's usually a good idea to get in first. Apple hasn't yet confirmed either the existence of the iPhone 8 or a date for the launch event, but if it sticks to tradition we can expect to see a new phone or phones from Apple in the first half of September.
Don't forget the history here either - as disastrous as the Galaxy Note 7 fiasco was for Samsung, it does mean there's a lot of pent-up demand for a super-sized Android phablet with a stylus, demand that the Note 8 is poised to tap into
Read More...