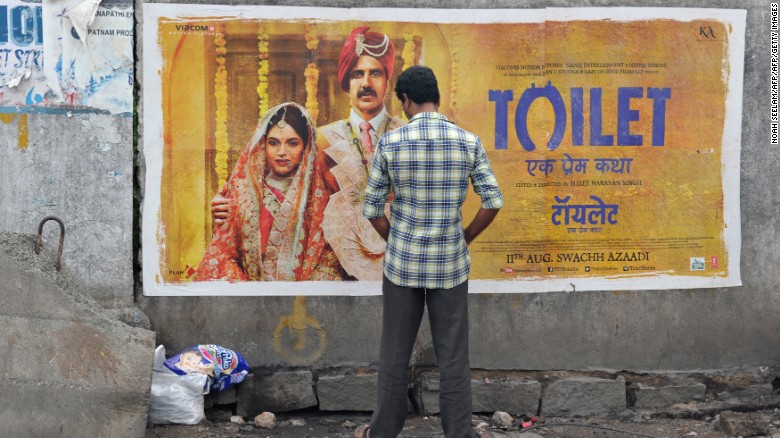 Mumbai, India (CNN)-A movie that tackles the subject of open defecation may not sound like romantic entertainment, but audiences across India think the current Bollywood hit "Toilet: A Love Story" delivers just that.
At a time of slumping ticket sales and superstar flops, the story of Jaya, a newly married woman who leaves her husband because his home has no toilet, is flushed with success.
Jaya, who grew up with a toilet in her house, becomes outraged when she learns there is no toilet in her new marital home. Western audiences might be startled by more than just the basic plot: Shortly after marriage, Jaya is invited to join the village women in their nightly "lota party."
The women go to a field at night to relieve themselves carrying their "lota" or water vessels to clean themselves afterwards. "Shed all your inhibitions and get down to business," one woman urges an unwilling Jaya.
In a country where women defecating in the open face the possibility of rape, it's no surprise to Indian audiences why women would group together for this activity.
The lead actor, Bollywood megastar Akshay Kumar, kicked off the film's promotional tour by digging a pit toilet.
Not the stuff Bollywood dreams are usually made of, but it's a fertile topic for Indians who are vividly aware of the problem of open defecation.
And it's become highly political: Indian Prime Minister Narendra Modi has made "Clean India" a prominent government campaign. This includes a spree of nationwide toilet building, according to government tallies, roughly 45 million over 3 years.
Despite this effort, more than 50% of Indians in rural areas -- nearly half a billion people -- still defecate in the open.
And India's cities aren't spared; An estimated 7.5% in urban areas still relieve themselves in the open.
Read More...