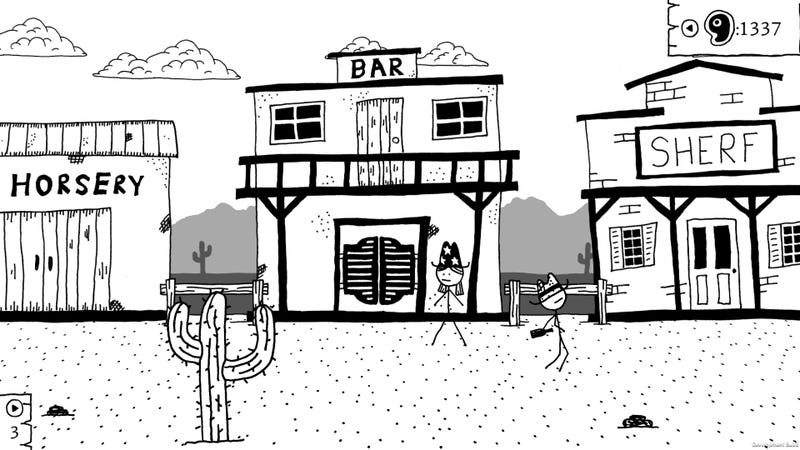 Most of the time, it's not terribly difficult to slot games on Steam's best-sellers list into categories. You've got your multiplayer survival game of the week, your triple-A hit, your discounted indie, PlayerUnknown's Battlegrounds, and so on. West of Loathing, though, defies categorization. It marches to the beat of its own drum, spits into its own spittoon, and tells its own poop jokes.
West of Loathing is a single-player spin-off of long-running stick figure MMO Kingdom of Loathing. The game's developers describe it as a "slapstick comedy stick-figure wild west adventure role-playing game," and while that phrase rolls off the tongue with all the grace of an entire tumbleweed erupting from your throat, it's basically accurate. In a black-and-white side-scrolling world, you play as a young cowboy or cowgirl who's heading west to seek fortune and punch cows. Or use bean magic on them. Or sell them snake oil. Or just, like, talk to them for a long, long time. Did I mention that West of Loathing has a lot of text? West of Loathing has a lot of text.
But it's good text. Punchy text. Funny text. Text like this, from when I talked to a strange cactus-human hybrid:
Read More...