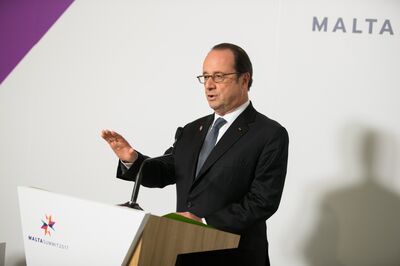 Donald Trump should butt out of "European life," French President Francois Hollande said, as European Union leaders warned they wouldn't let the new U.S. administration undermine their values.
As they grappled over the best response to the U.S. president's antagonism, EU leaders insisted they will stand up for their principles, bristling at his predictions that more countries would follow the U.K. out of the bloc.
"I reacted when Donald Trump said it was marvelous for a country to leave the European Union, simply because it is not his business to get involved in European life," Hollande told reporters at an EU summit in Valletta, Malta on Friday. "It is up to Europe to decide how many members it should have and how it should live."
As the EU wrestles with the region's biggest migration crisis since World War II, Britain's impending exit and how to hold the group together in an increasingly uncertain world, several leaders displayed irritation with the new U.S. president's biting remarks about the viability of the European project, which celebrates its 60th anniversary this year. Trump has sown division between member states, backed Brexit and forecast the bloc's unraveling.
EU Principles
"We cannot stay silent where there are principles involved," Maltese Prime Minister Joseph Muscat told reporters at the summit. "We will speak very clearly when we feel those principles are being trampled on."
Laying bare the tensions, Ted Malloch, who says he's been interviewed for the role of U.S. ambassador to the EU, lashed out at the 28-member bloc in an interview with Bloomberg TV on Friday. Following Trump's lead, he encouraged other member states to hold referendums similar to the U.K., which voted last year to leave the bloc.
The EU "is an overly complex fairly bloated bureaucratic organization," Malloch said. "Its ambitions have basically overstepped its capabilities, so the question really is what the European member states want to see for that European Union."
Speaking to reporters as he left the summit, Hollande said the U.S. should pick an envoy who believes in Europe.
"To designate an ambassador, it is better if he believes in the institution in which he is supposed to work, it is as simple as that," Hollande said.
As if to underline the distance from the White House at which the EU now finds itself, it was left to Theresa May, leader of the country that's exiting the alliance, to brief her counterparts. May, the sole EU leader to have met Trump since his inauguration, told her follow leaders to still consider the U.S. "a friend and ally," according to her office.
Read More...