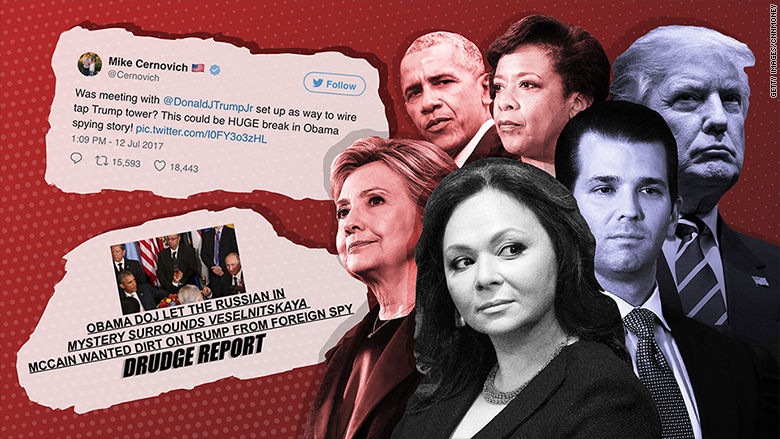 Was the Russian lawyer who met with Donald Trump Jr., Jared Kushner and Paul Manafort in June of last year the first evidence of possible Trump campaign collusion with Russia -- or was she part of a sinister Democratic plot to entrap the Trump campaign?
Over the past three days, members of the pro-Trump media have settled on their answer, characterizing the lawyer, Natalia Veselnitskaya, as a leftist with ties to the Obama administration. The idea quickly drifted upward to some of the most influential figures in right-wing media, and then ultimately to President Trump himself, who referenced some of its underpinnings during a Thursday press conference in France as he attempted to explain away his son's meeting with the Russian lawyer.
The theory is based on bits of fact that have been taken out of context or spun in misleading ways to paint a picture that the President and his supporters prefer to the one currently dominating much of the media.
The narrative appears to be untrue, but in some ways that's beside the point. The pro-Trump media has employed a consistent strategy when responding to damaging reports about the President and his allies, one it will likely continue to use should more revelations concerning Russian interference in the election emerge. Instead of covering those revelations, pro-Trump media outlets often turn to entirely new stories or controversies.
Any factual problems or logical holes -- in this case, that it would make little sense for Democrats to have entrapped Trump Jr. before the election only to hold on to the damaging information for almost a year after Election Day -- don't matter so long as these alternative narratives last long enough to confuse audiences during otherwise bad news cycles.
"All that right-wing media needs to do is just throw out some things that appear to be substantive that have some stray facts that the cult will hang on to, and the cult will do everything else themselves," John Ziegler, a conservative media columnist and former talk radio host, told CNN. "They don't need a full theory. No one ever provides a narrative that explains all this. It's just poking holes and pretending the whole story is fake news. It's a classic trick really. It's a shame that's what the right-wing media has been reduced to."
Read More...