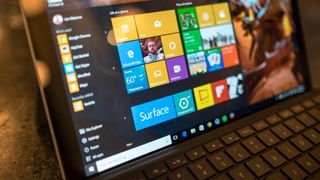 Implementing a business tablet, regardless of the OS, into your workflow could allow you to stay productive while reducing the weight of your gear bag.
Many of today's best business tablets come with processing power that rivals standalone laptops. And when you add in a decent keyboard, getting work done on a smaller, slimmer form factor device will be easy.
While some slates offer manageable price tags, the market is still dense, and the top dog offerings with consumers are still not necessarily the best option for small business and enterprise users.
No matter if you rely on Windows, Android, or even iOS, there's something worth recommending.
It's only a matter of figuring out what your priorities are. And to help you choose the best tablet, here's our overview of the market at the moment, and the 10 tablets we'd recommend for the business user.
For the sake of clarity, we will only look at pure tablets, and detachables when it comes to convertibles. 2-in-1 hybrid models are closer to traditional laptops as their keyboard can't be totally detached.
Read More...