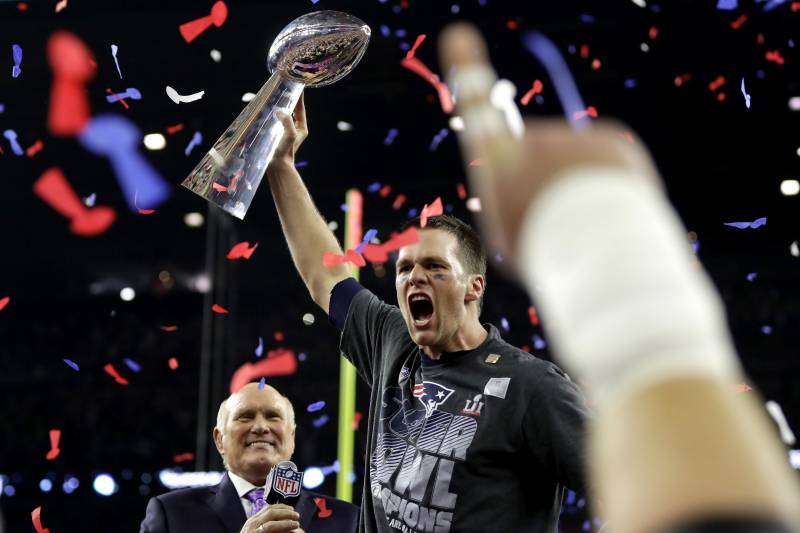 HOUSTON — The coronation began in peace. Tom Brady crouched low to the NRG Stadium turf to be completely alone with his thoughts.
As confetti poured, music blared and adults cried, nobody bothered him for 30 seconds.
First, LeGarrette Blount arrived. Then, Bill Belichick muscled through the madness to find and embrace Brady. Moments later, owner Bob Kraft cradled his right hand around his quarterback's neck to say a few words in private.
Vindication was never sweeter, no. When Brady took the podium with smeared eye black, tears welling and boos raining down on commissioner Roger Goodell—when he finally gripped the Lombardi Trophy and hoisted it high to scream, "Let's gooo!"—there was clearly zero debate.
Brady, fifth trophy in hand, is the G.O.A.T.
He shouted once more.
"We're bringing this sucker home!"
Name any quarterback. Matt Ryan, Aaron Rodgers, Ben Roethlisberger, Russell Wilson—none are in Brady's stratosphere. What he pulled off against the Falcons in Super Bowl LI nudges him past Joe Montana. Any argument to the contrary is officially "back in my day" myth-making. He's the best quarterback ever. Period. And he's probably the best player ever. This 34-28 overtime thriller for Ring No. 5 puts Brady in his own class.
So…how?
How did this 39-year-old render the Falcons a pale, traumatized mess? Brady was not surgical, no, he was downright diabolical in erasing a 28-3 deficit with 17 minutes left.
How? Simple. This win echoed to Brady's past. Only he can pull off this stunner, because it's wired into his football DNA. To those who've been in his day-to-day football universe, who've seen him overcome before, Sunday night's heroics were expected. From San Mateo, Calif., to Ann Arbor, Mich., to Boston, this coronation reverberated.
Take it from the kid who caught Brady's first touchdown ever, in a freshman scrimmage, at Junipero Serra High in San Mateo.
"He's unreal," John Kirby texted. "Told you."
Or from the quarterback who competed with Brady at Michigan, the one so often referred to as Brady's No. 1 source of motivation in college.
"That was unbelievable," Drew Henson texted. "No panic by anyone ever."
Or from the fullback lining up behind Brady during his first Super Bowl run 15 years ago.
Read More...