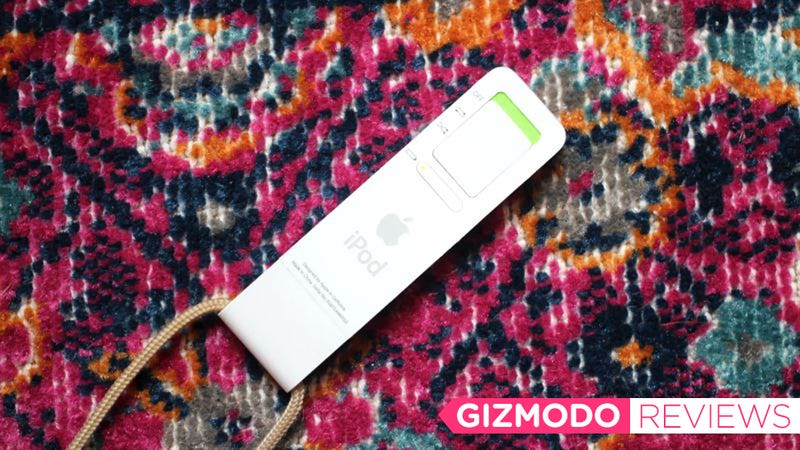 Apple is doing away with the iPod Shuffle, a gadget I'd eradicated from my mind until yesterday. And now I'm suddenly awash with emotion for a little white stick I hadn't considered once in this decade. I'm going to miss the hell out of it. Damn you Apple, quit playing shuffle with my heart.
Late spring in 2006, at the ripe old age of 14, my girlfriend slid a box across the table at a restaurant we picked for our second anniversary. I unwrapped it, and what I saw packed neatly inside a sporty, lime-green box elated me: a 512 MB iPod Shuffle. The original Shuffle, about the size of a half-empty pack of gum, and glossy white; the only iPod I would ever own, until I bought an iPhone in 2009, out of shame for using a feature phone while blogging about tech.
Today the iPod shuffle looks like a distant relic of the past; a chunky USB 2.0 thumb drive capped by a yellowing lanyard, and a headphone jack—two wholly outmoded technologies, by Apple no less. On the stick are six clicky, physical buttons (Apple killed those too), and a combo shuffle-power switch that transformed the 120 songs I could store into a soundtrack for brooding carpool rides.
Back then it was almost perfect; a lovably dorky device, and relatively affordable at $100. I loved the damn thing, cared for it meticulously, and protected it with an ugly plastic jelly case, or occasionally, a modded Altoids tin, because I saw a DIY guide for it online. It was immaculate, I swear, until about 4 years later, when a stumble during a brief run left it scarred forever.
Read More...