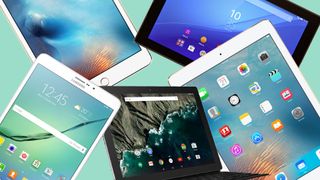 Update: Now that it's new year, a good few of these tablets will be likely getting refreshes at MWC 2017 - check out our coverage at the end of February for all the info!
Best tablet 2017
The best tablets are all about combination, with most offering a decent keyboard and desktop-style experience to sound the death knell for laptops.
From Apple's larger iPad Pro to Android's Google Pixel and Samsung tablets, there's a lot of choice out there.
And unlike the best smartphones - Windows makes an appearance too.
In terms of how we decide which goes where, we rank them based on multiple elements including performance, battery life, screen quality and more, with price playing an important part too.
If none of the best tablets here take your fancy then head on over to our tablet reviews pages, where you'll find in-depth reviews of many more models.
Let us know your thoughts on the top 10 (and what order you think they should go in) in the comment box below.
Read More...