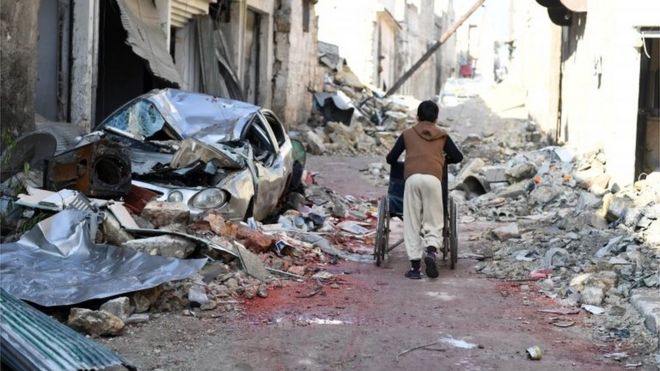 "This is the price sometimes, but at the end, the people are liberated from the terrorists," he told French media.
The UN says air strikes by the government and its allies on a civilian-packed area in the battle's final stages were probably a war crime.
Russia has joined Syria's strikes on anti-government rebels since 2015.
Alongside Turkey, Moscow helped to negotiate a fragile ceasefire in Syria that is largely holding, despite claims of violations from both sides of the conflict.
Both countries and Iran are now pushing for peace talks to be held later this month in the capital of Kazakhstan, Astana.
An estimated 21,500 civilians have been killed in Aleppo since the battle there began about five years ago, according to the UK-based Syrian Observatory for Human Rights.
In comments to French media that were published by Syrian state news agency Sana, President Assad described the devastation of eastern Aleppo and killing of civilians as "painful for us as Syrians to see", adding: "Every war is bad."
But, he added, "is it better to leave [civilians] under their [rebels'] supervision, under their oppression, by beheading, by killing?"
Read More...