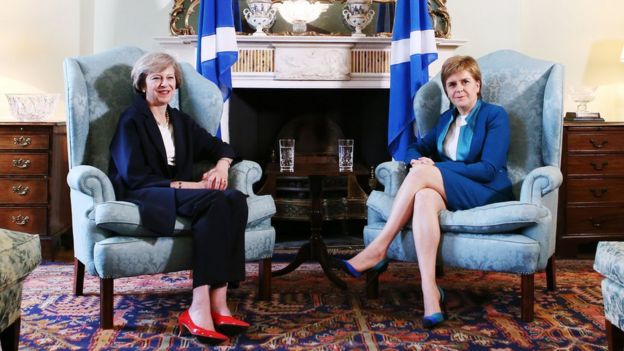 A second Scottish independence vote "will take place" despite Theresa May's view that "now is not the time", the SNP conference has been told.
The party's deputy leader Angus Robertson said it would be "totally unacceptable" for Westminster to deny a referendum before Brexit is finalised.
Meanwhile, Mrs May has used a speech in Wales to defend "our precious Union".
The PM indicated this week that her government would not approve the SNP's preferred timetable for a referendum.
First Minister Nicola Sturgeon believed it was imperative for a vote on Scotland's constitutional future to take place ahead of a deal being done on the UK exiting the European Union.
At the earliest, that is expected in March 2019.
Ms Sturgeon has pinpointed the best time for a referendum would be between autumn 2018 and spring 2019.
In his speech to the conference in Aberdeen, Mr Robertson said: "Let there be no doubt - Scotland will have its referendum and the people of this country will have their choice. They will not be denied their say."
He added: "Scotland's referendum is going to happen and no UK prime minister should dare to stand in the way of Scotland's democracy."
However, Mrs May, who is to speak to the Welsh Conservative spring forum, will say she is working for "the whole country".
She is launching her "plan for a brighter future".
The SNP conference got under way just 24 hours after the Scottish and UK governments clashed over a second independence referendum.
Ms Sturgeon insisted that a referendum should go ahead on her timescale.
It followed Mrs May rejecting calls for a second independence vote before Brexit.
'Bad for us all'
A key theme of the prime minister's speech to the Welsh Conservative forum meeting in Cardiff was a defence of the UK.
She said the "precious bond" between England, Scotland, Wales and Northern Ireland was much more that just "constitutional artefact".
Mrs May went on to say that a second Scottish independence referendum would be "bad for Scotland, bad for the United Kingdom, and bad for us all".
The prime minister added: "The coming negotiations with the EU will be vital for everyone in the United Kingdom.
"Every person, every family, every business, every community the length and breadth of the United Kingdom - England, Scotland, Wales and Northern Ireland.
"As the prime minister of this United Kingdom, I will always ensure the voices and interests of England, Scotland, Wales and Northern Ireland are represented as we negotiate to leave the EU."
Read More...