Minutes before her halftime show at Sunday's Super Bowl LI, Lady Gaga previewed her performance in a dramatic black-and-white Tiffany commercial: "I'm coming for you."
She wasn't kidding, kicking off her 13-minute performance from the top of Houston's NRG Stadium with an a cappella snippet of God Bless America and This Land Is Your Land before leaping from the roof.
Her opener indicated how the rest of the performance would go — tightly choreographed and perfectly executed, if a little sterile.
Beginning her set wearing an iridescent studded bodysuit and bedazzled boots, Gaga somersaulted through the air onto the stage straight out of Mad Max, performing Poker Face atop a barbaric metal tower. Surrounded by caped dancers, she segued into a theatrical take on Born This Way, complete with a crotch grab straight from Michael Jackson's 1993 halftime show.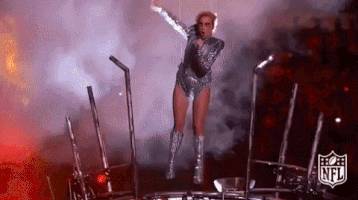 As thrilling as her army of dancers was, perhaps she should've stayed on her high-flying wires a little longer, as her halftime show's risky stunts — and hair-raising surprises — ended as soon as she unhooked from her harness.
Running quickly through her repertoire of hits, Gaga teasing a potential Beyoncécameo on Telephone (there wasn't one) before emerging in a spiked golden jacket with a keytar for Just Dance, the lyrics projected in lights held by fans on the field. The orbs quickly changed to warm candlelight, as she sat at a piano and declared, "We're here to make you feel good," before a stirring take on Million Reasons that lingered just a little too long.
Read More...