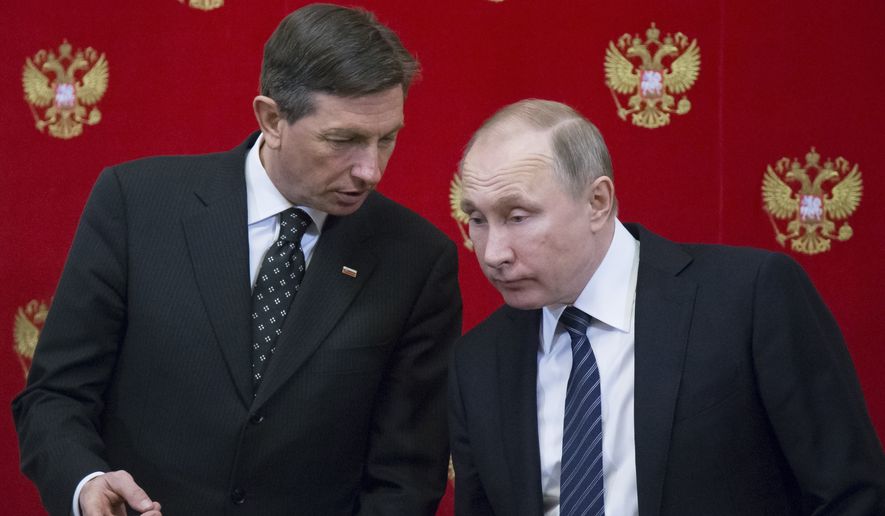 MOSCOW (AP) — President Vladimir Putin thanked Slovenia on Friday for offering to host his first meeting with U.S. President Donald Trump, but added that the prospect hinges on Washington.
The Russian leader hailed Slovenia, where Trump's wife Melania was born and grew up, as an "excellent" venue for possible talks with Trump.
"It depends not only on us, but we are naturally ready for it," he said.
Speaking after holding talks at the Kremlin with his Slovenian counterpart Borut Pahort, Putin said Russia welcomesTrump's statements about his intentions to restore the strained Russia-U.S. ties.
"We always welcomed that and we hope that relations will be restored in full in all areas," Putin said. "It relates to trade and economic ties, security issues and various regions of the world, which are suffering from numerous conflicts. By pooling our efforts, we naturally would be able to significantly contribute to solving those issues, including the fight against international terrorism."
In recent years, Russia-U.S. relations have plunged to post-Cold war lows over the Ukrainian crisis, the war in Syria and the allegations of Russia hacking of the Democrats in the U.S. presidential election.
In 2001, Slovenia hosted Putin's first meeting with former U.S. President George W. Bush that led to a short-lived thaw in relations between Moscow and Washington. A similarly short warm spell early during Barack Obama's presidency gave way to new tensions.
As part of Obama's early effort to "reset" ties with Moscow, the two nations in 2010 signed a pivotal arms control pact that set new lower caps on the number of warheads each country can deploy.
Putin's spokesman, Dmitry Peskov, said the prospects of extending the New START Treaty that is set to expire in 2021 will "depend on the position of our American partners" and require negotiations.
Read More...