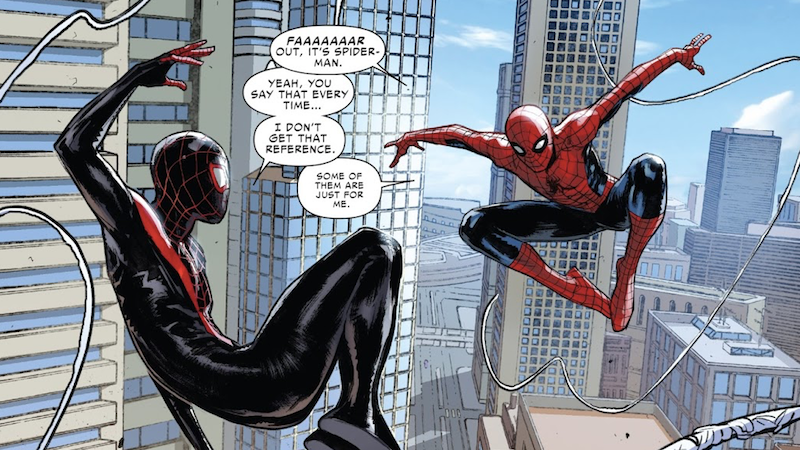 Marvel's Secret Wars event literally ripped the publisher's comic book universes apart, stitched them back together into an insane patchwork dystopia, and ended with characters from Marvel's Ultimate Universe like Miles Morales ending up in Marvel's primary 616 universe, where all the action happens.
While bringing Miles into the main universe was a dream come true for fans who felt as if he deserved a shot at running around in Marvel's flagship titles, his introduction into the 616 universe came with all sorts of interesting quirks. Miles has had to figure out how to fit into this new world that's so unlike his own. Perfect example: In 616, Peter Parker—who was dead in Miles' universe—is very much alive and still using the Spider-Man moniker that Miles had become accustomed to.
The two Spider-Men have had a doozy of a time making sense of their complicated, interconnected pasts since meeting for the first time. But in Spider-Men II, they're finally digging into the post-Secret Wars, multiversal weirdness that nobody else seems to remember.
Though both Peter and Miles are currently going by "Spider-Man," Spider-Men II opens with a palpable tension between the two after a bunch of bad guys manage to tie them up with their own webbing and escape in an airplane. Miles manages to free them just in time to watch the plane fly away and while Peter doesn't blame Miles for what happened, he admits that he thinks Miles is too young to fight crime.
Read More...