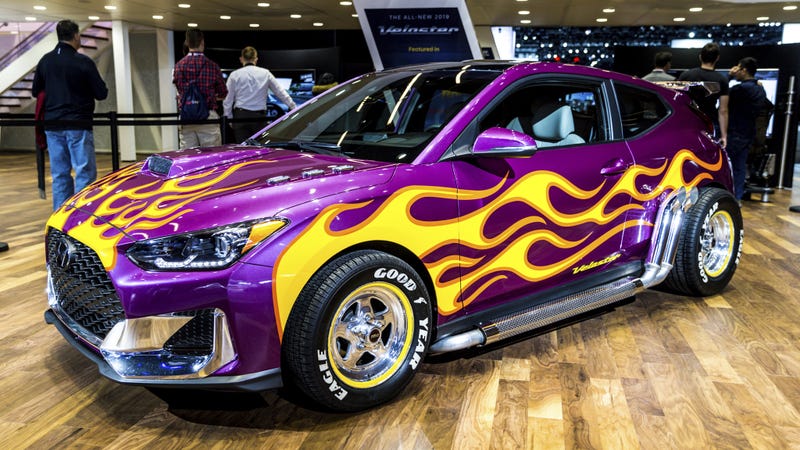 This year's Detroit Auto Show had a big focus on trucks and autonomous crossover concepts, and most of the big stuff was out of the way before the show even officially began. That left the other companies some space to show up with some surprises.
Unfortunately, those surprises were not a mid-engine Corvette, nor a Toyota Supra, nor anything else that would probably be pretty cool. But Hyundai did have plenty of breathing room to debut the new Veloster and its performance variant, the N. But the company also surprised us with a fun little joke.
I almost never think about Hyundai, but I must have visited the Hyundai stand at least four times in my two days on the show floor in Detroit. At first I was genuinely curious and excited for the Veloster N, and then I saw the purple car with side-pipes and flames off to the side.
Before the Hyundai reveal event, me and Andrew Collins were looking at the three cars under covers trying to guess which was which. One was probably a normal Veloster, the second a Veloster Turbo, and the third, with its obvious hood scoop and massive wing bulging under the cover, must be the Veloster N or some sort of Veloster race car. It was neither.
Read More...