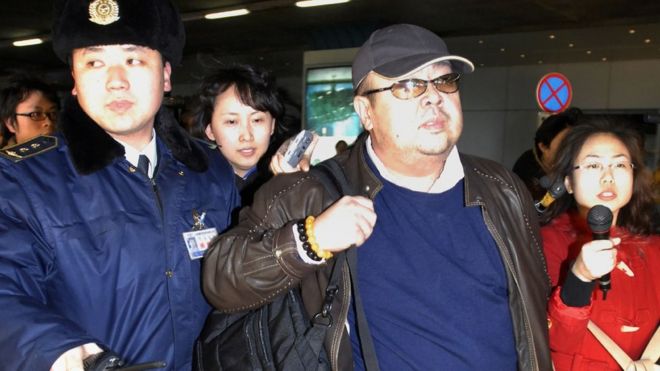 Beijing needs to do more to rein in North Korea: that's the view of US President Donald Trump and his new team. But how much leverage does China really have there and what are the chances of it being used, asks the BBC's Stephen McDonell in Beijing.
China and North Korea seem to be heading into yet another tense period in their recently rocky relationship.
Once brothers-in-arms fighting against "imperialist aggression" during the Korean War, now Beijing accuses Pyongyang publicly of breaching United Nations sanctions in the pursuit of its missile and nuclear weapons programmes.
And the apparent assassination of Kim Jong-nam - the half brother of North Korea's brutal leader - is being seen as a fresh point of tension between these official allies.
In fact, some view it as direct slap in the face for China.
It appears Mr Kim was murdered in Kuala Lumpur airport, on his way back to Macau, by female killers using of some type of poison.
Kim Jong-nam spent much of the past decade in a type of self-imposed exile inside the former Portuguese colony. There he was seen to have the protection of China.
The eldest son of North Korea's late leader Kim Jong-il, he said time and again that he had no interest in becoming involved in his country's politics.
What's more, whenever he was cornered by reporters in the Asian casino city, with his shirt unbuttoned to number three and sporting a three-day growth, you could really believe him when he said it. After all, why would he want to?
There has been speculation that he operated some sort of North Korean sanction-busting slush fund out of Macau and that this was the reason that Beijing and Pyongyang tolerated his hedonistic life style.
But for China there was something else too. He was an ally inside the North Korean elite: somebody who thought the best way forward for his homeland was a Chinese-style opening up.
Read More...