JPMorgan Chase & Co. said fourth-quarter profit rose 24 percent as the biggest U.S. bank set aside less money for bad loans and bond-trading revenue increased more than analysts estimated.
Earnings benefited from better credit quality among U.S. consumers and corporations, allowing the bank to pull about $400 million from bad-loan reserves in the mortgage, energy and metals businesses, New York-based JPMorgan said Friday in a statement. Fixed-income trading also contributed to the gains. Chief Executive Officer Jamie Dimon, 60, said last month that bond and stock trading volume was "much better" after the U.S. election.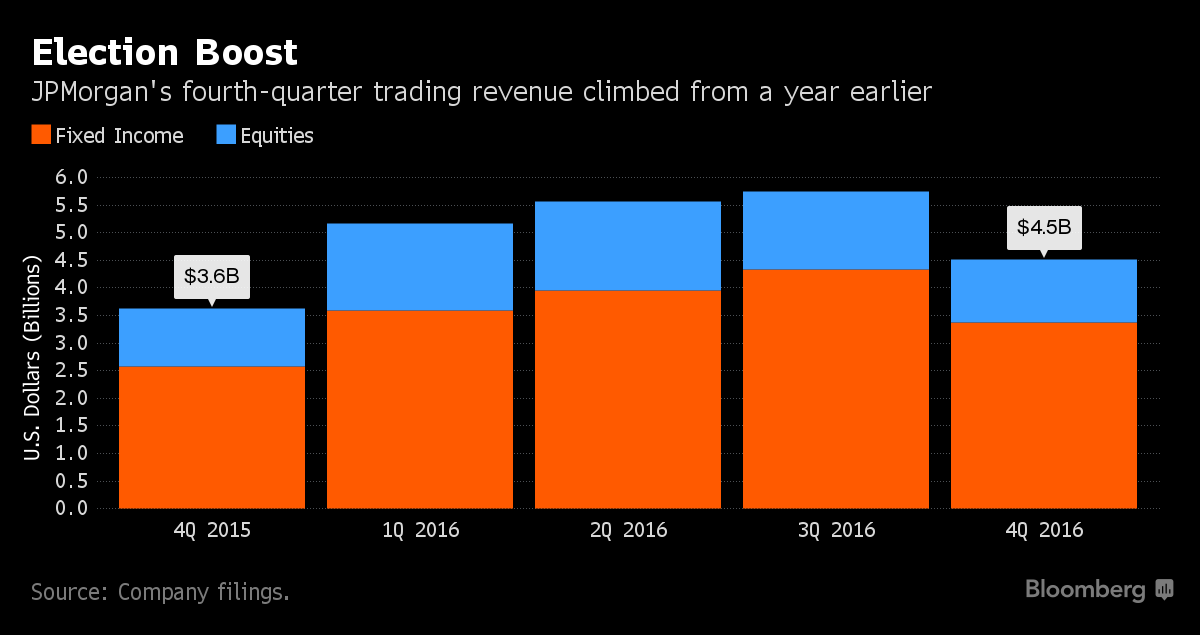 Net income increased to $6.73 billion, or $1.71 a share, from $5.43 billion, or $1.32, a year earlier. Adjusted earnings per share, which exclude a $475 million tax benefit, legal expenses and an accounting adjustment, were $1.62, beating the $1.43 estimate of 26 analysts surveyed by Bloomberg.
"The U.S. economy may be building momentum," Dimon said in the statement. "There is opportunity for good, rational and thoughtful policy decisions to be implemented, which would spur growth."
JPMorgan, which has surged 23 percent since Donald Trump's surprise victory in the U.S. election, rose to $86.50 from $86.24 in early trading at 8:01 a.m. in New York. Bank shares have rallied on optimism Trump's tenure will bring lower taxes, higher interest rates and lighter regulation.
The provision for credit losses was $864 million, better than the $1.39 billion analyst estimate and down from $1.25 billion a year earlier. Revenue rose 2 percent to $24.3 billion, eclipsing the $24.2 billion average estimate. Expenses fell 3 percent to $13.8 billion, compared with the $14 billion estimate.
Read More...