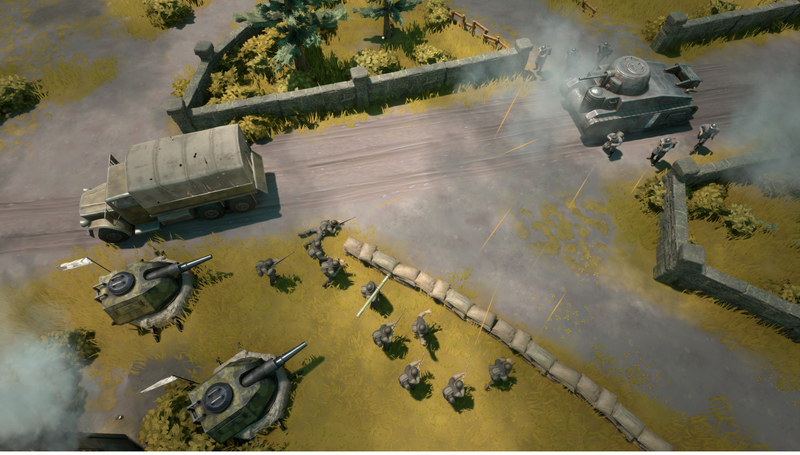 Foxhole is a new multiplayer game where you play as a soldier in a massive online battlefield. You, along with hundreds of other players, influence the trajectory of a larger war—though that grand scale won't save you from dying as soon as you reach the front lines.
The game is a top-down third-person shooter, and in order to play, you have to join one of the servers, each of which has a different battle. You can choose to join either the Colonials or the Wardens— which are "purely cosmetic" according to an admin on the Discord. That said, one team may have more players than another, or may have more bases than the other, depending on how well that particular team is doing, and players will likely factor this in when choosing a side.
The goal of the game is to locate, claim, and rebuild all town halls, where you can both spawn and craft weapons. From there, you can build the strength of the base or push back enemy lines. Players can take on a variety of roles, from combat engineers that build structures, logistics officers that produce and deliver supplies, and field commanders that set up mission objectives and facilitates communication between squads. Foxhole is supposed to mimic the realities of war, thus battles are long and can take hours if not days to win. The game focuses heavily on strategy and teamwork, so using the chat box and voice chat to communicate with other players are a must. It leaves little space for casual players to enter the battlefield, and new players are on a steep learning curve.
While it's simple enough to figure out controls (you can check out KrazyFlyinChicken's tutorial here) your objectives are not as intuitive. Foxhole markets itself as a teamwork MMO, but it doesn't always work out that way. In my time with Foxhole, I saw players team-kill each other, or just wouldn't help out other newbie players.
Although this is an action game, it takes a long time to actually find the action. When you first spawn at the town hall, you can craft a variety of weapons and ammunition clips, each which take 10-15 seconds each to make. The map is massive— a feature that I would normally find cool, but is exhausting to navigate. You would think that I could just grab an armored truck or a motorcycle and drive around, but no. Players on your own team will lock vehicles, which prevents you from getting inside them. I understand locking the cars if you drive them out to the battlefield, because that way enemies can't use them, but at the home base? Give me a break.
Read More...