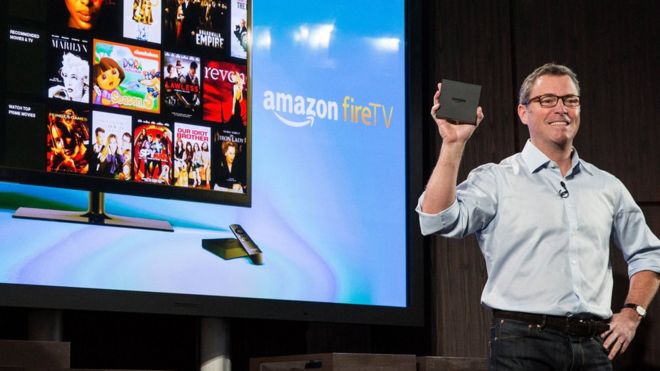 Google plans to stop Amazon's Fire TV streaming devices being able to use YouTube from the start of 2018.
The search giant has also blocked a workaround that Amazon introduced to restore YouTube access to a screen-based version of its smart speaker.
Experts say the steps mark an escalation of a business row in which consumers have been caught up in the fallout.
Amazon had previously stopped selling several of Google's hardware products.
It removed the latest Nest-branded smart home kit - including a home security system and a new version of its thermostat - from its online stores last month.
And since 2015, Amazon has refused to sell Google's Chromecast video and audio-streaming dongles.
The latest development coincides with the release of Amazon's Prime Video app for the Apple TV.
Its absence had previously put Apple's set-top box at a disadvantage to Amazon's Fire TV line-up.
'Lack of reciprocity'
Fire TV owners have reported that trying to watch YouTube clips now prompts an alert warning them that they will lose the functionality on 1 January.
"We've been trying to reach agreement with Amazon to give consumers access to each other's products and services," Google said in a statement.
"But Amazon doesn't carry Google products like Chromecast and Google Home, doesn't make Prime Video available for Google Cast users, and last month stopped selling some of Nest's latest products.
"Given this lack of reciprocity, we are no longer supporting YouTube on Echo Show and FireTV. We hope we can reach an agreement to resolve these issues soon."
Google had stopped Amazon's Echo Show speakers being able to play YouTube videos in September, on the basis that the retailer had altered the way the software worked.
The version Amazon presented had lacked next video recommendations, subscriptions and other features - but these were restored in November, when Amazon made the device present a more normal view of YouTube.
Read More...