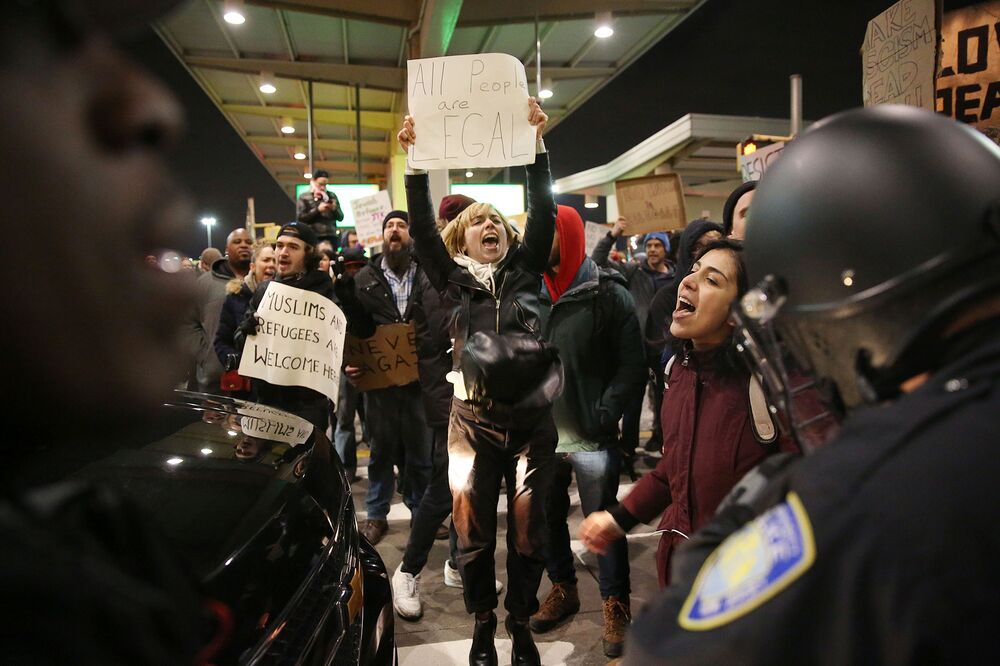 Global opposition to U.S. President Donald Trump intensified on Sunday as world leaders condemned the move to temporarily limit entry from what are predominantly Muslim countries, while Germany pledged to play a bigger role on the international stage.
World leaders including U.K. Prime Minister Theresa May, Canadian Prime Minister Justin Trudeau and German Chancellor Angela Merkel criticized Trump and said their nations won't change their immigration policies.
"We do not agree with this kind of approach and it is not one we will be taking," May said Sunday in a statement, two days after meeting Trump to begin work on a trade accord.
The growing condemnation exposed dividing lines with U.S. allies and wasn't limited to the world of politics: Netflix Inc.'s chief executive officer said the changes were "un-American," while Alphabet Inc.'s Google advised staff who may be impacted by the order to return to the U.S. immediately.
Two judges temporarily blocked Trump's administration late Saturday from enforcing portions of his order that would have led to the removal from U.S. airports of refugees, visa holders and legal U.S. residents from the seven countries. Neither ruling strikes down the executive order, which will now be subject to court hearings.
'Extreme Vetting'
"Our country needs strong borders and extreme vetting, NOW," Trump told his almost 23 million Twitter followers early Sunday. "Look what is happening all over Europe and, indeed, the world - a horrible mess!"
Under the order, the admission of refugees would be suspended for 120 days. Citizens of Syria, Iraq, Iran, Sudan, Somalia, Yemen and Libya would be banned from entering the U.S. for 90 days, while the government determined what information it needed from other countries to safely admit visitors. The order didn't list the countries, but pointed to laws that cover those seven, which were provided by the White House.
Read More...