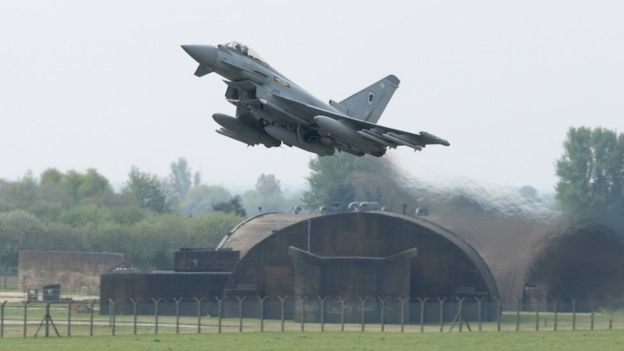 Labour's shadow defence secretary is "absolutely furious" after Jeremy Corbyn's spokesman said the UK should help "wind down" tensions on the Nato-Russian border, the BBC has learned,
A source close to Nia Griffith told political correspondent Ben Wright she was not considering her position, but support for Nato was a "red line".
Hundreds of troops are to go to Estonia soon, with the UK government promising to deter Russian "aggression".
Ms Griffith has said she supports this.
The UK has been building up its military presence in the Baltic region - sending RAF Typhoons since 2014 - following Russia's annexation of Crimea from Ukraine.
'Expressed concerns'
Questioned by reporters in Parliament, Mr Corbyn's spokesman said: "What we don't want to see is a ratcheting up of tensions between Russia and the West, as has been taking place. We want to see an engagement with Russia - on a critical basis, but a serious basis."
He added: "We've said repeatedly that we want talks and engagement to wind down military tensions, particularly on the Nato-Russian border and in the Middle East," said the source.
"Jeremy has expressed concerns about that being one of the escalations of tensions that have taken place."