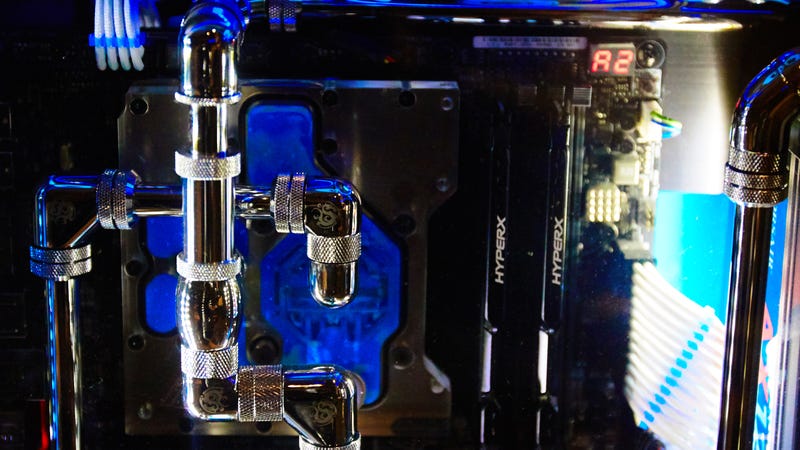 It's time to replace your computer. Maybe it was purchased during the last Republican administration, or you ruined it with a spilled drink, or maybe you've just got some money to burn and you'd like to blow it on Intel's new Kaby Lake microarchitecture. Whatever the reason, you're ready to upgrade your computer, and you're going to be left with a big choice. Do you spend the extra cash for the categorically faster i7 processor, or do you pinch a few pennies and go with the i5.
After running both processors (the 4.5GHz i7-7700K and the 4.2GHz i5-7600K) through the ringer in a computer that was otherwise the exact same, we can say, without a doubt, that you should save your money. For most people the i7 just isn't worth it.
Intel introduced the i7 and i5 brands back in 2007 as a way of guiding customers. The i5 was for "mainstream" use and the i7 was for "high-end" and business use. Spend a little extra money and the i7 should do everything faster and better.
The key to the i7's speed is not in its higher clock speed (the gigahertz number), but its ability to employ hyper-threading more efficiently. In the early days of personal computing, if you wanted to speed up your computer you'd add an additional CPU. Modern Intel processors have multiple cores—which your computer sees as additional CPUs. Hyper-threading takes advantage of those cores, allowing them to doing big fancy computations in parallel instead of systemically. The i7 processor is designed to be so good at hyper-threading that it can do twice as many processes in parallel as the i5.
The catch is that this whizzbang tech only really comes into play when the CPU is extremely taxed. You're not gonna max out the guts perusing Trump tweets, but you might in processing enormous sets of complex data, and that only really happens if you're in a few very specific fields of work, like 3D design, engineering, or filmmaking.
Read More...