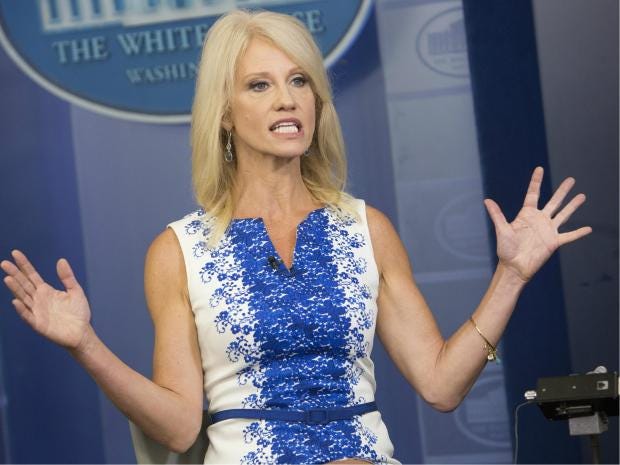 Kellyanne Conway claimed the Obama administration told "big lies" about both the 2012 Benghazi controversy and Obamacare, when pressed on conflicting narratives surrounding a meeting with a Russian lawyer.
Ms Conway was being questioned on ABC's "This Week" programme on Donald Trump Jr's June 2016 meeting with Natalia Veselnitskaya, a lawyer with ties to the Kremlin. The President's eldest son initially said the meeting was to discuss Russia's halt on adoptions of children by US citizens.
He then amended his statement and released a string of emails which revealed that Mr Trump Jr was meeting with Ms Veselnitskaya - at an event that included then campaign manager Paul Manafort and White House aide and Ivanka Trump's husband Jared Kushner - to possibly gain incriminating information on opponent Hillary Clinton's alleged financial ties to Russia.
The meeting took place in Trump Tower in New York and records indicate the President was in the building at the time.
Donald Trump later referred to his son's meeting as "opposition research" and that any politician would have done the same.
The programme's host George Stephanopolous asked Ms Conway why Mr Trump's surrogates have differing views of the President's involvement and knowledge of that meeting.
Read More...