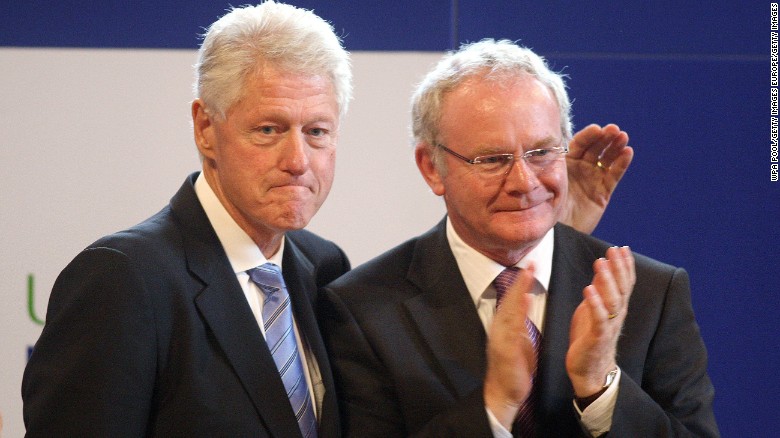 (CNN)-Former US President Bill Clinton has led tributes to Martin McGuinness, describing the former Irish Republican Army commander and Deputy First Minister of Northern Ireland who died on Monday as "courageous."
McGuinness became Sinn Fein's chief negotiator during the Northern Ireland peace process, working with Clinton on the 1998 Good Friday Agreement. He died on Monday night after a short illness, according to a statement released by the Sinn Fein party. He was 66.
"When he decided to fight for peace, Martin was calm, courageous, and direct," Clinton and former US Secretary of State, Hillary, said in a statement.
"And when he gave his word, that was as good as gold. As Sinn Fein's chief negotiator, his integrity and willingness to engage in principled compromise were invaluable in reaching the Good Friday Agreement.
Both Bill and Hillary Clinton worked with McGuinness during their careers.
"My lasting memory of him will be the pride he took in his efforts to improve disadvantaged schools in Unionist and Protestant communities. He believed in a shared future, and refused to live in the past, a lesson all of us who remain should learn and live by. May he rest in peace."
McGuinness died less than three months after resigning as Deputy First Minister, sparking an election and threatening Northern Ireland's fragile power-sharing arrangement.
He retired from politics on January 19, 2017, saying his health had been deteriorating.
In a statement, Sinn Fein described him as a man of "great determination, dignity and humility."
"He was a passionate republican who worked tirelessly for peace and reconciliation and for the re-unification of his country. But above all he loved his family and the people of Derry and he was immensely proud of both," Sinn Fein President Gerry Adams said in a statement.
Under their tribute, Sinn Fein wrote in Irish, "I measc laochra na nGael go raibh a anam dílis," which translates as "May he rest in peace in the presence of Irish heroes."
He is survived by his wife Bernie and four children.
Read More...