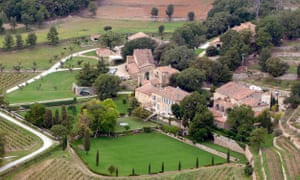 A French interior designer is suing Brad Pitt and Angelina Jolie for failing to credit her for work on their chateau in Provence.
Odile Soudant also claims the superstar former couple drove her company towards financial ruin by failing to honour bills for a multimillion-euro project to illuminate the 17th-century property.
In April, the Paris court of appeal ordered one of the Pitt/Jolie companies, Château Miraval – named after the vast estate – to pay Soudant €565,000, including €60,000 for damaging her reputation.
Soudant told the Guardian the legal decision – first reported on Wednesday in Libération – had remained confidential until now because she preferred to keep matters private and had believed she could resolve the issue with Pitt amicably.
The French newspaper reported that legal documents show how Pitt and Jolie fell in love with the Château Miraval, near Aix-en-Provence, after spotting it from a helicopter while flying over the region.
The château, surrounded by vineyards at Correns, in the Haut-Var, came with several hundred hectares of land. It was here in 1979 that Pink Floyd recorded the celebrated album The Wall.
Pitt and Jolie first rented the chateau, then persuaded the then-American owner to sell it to them for €45m.
Read More...