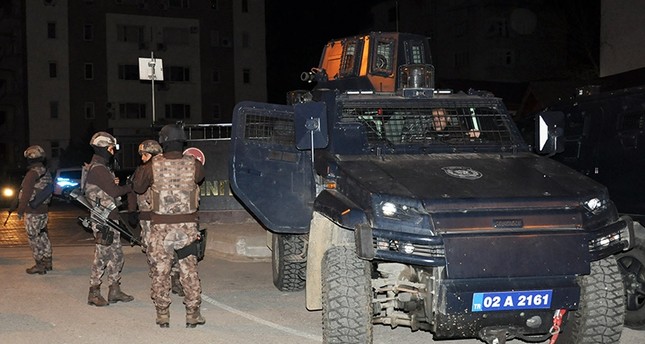 Turkish police on Sunday detained at least 400 suspected members of the Daesh terrorist group in anti-terror raids carried out in six provinces, including Ankara, Istanbul, Adıyaman, Konya, Manisa, Samsun, and Gaziantep.
60 suspects were detained in the capital Ankara's Sincan, Çubuk, Yenimahalle and Mamak districts, while 150 suspects were detained in Şanlıurfa province near the Syrian border..
Those held were mainly foreign nationals, Anadolu news agency said.
Meanwhile, 30 suspected Daesh terrorists were detained in simultaneous counter-terror operations in Konya province, and 10 others were detained in Adıyaman province.

Police also detained 18 suspects in Kocaeli and Istanbul, 47 suspects in Gaziantep and 46 others in Bursa province.
Thirty-nine people were killed, mainly foreigners, on New Year's night when a Daesh terrorists went on a shooting rampage inside the Reina night club in Istanbul.
Police detained the attacker, Abdulgadir Masharipov, an Uzbek national, on January 16 after over over two weeks on the run and authorities say he has confessed to the massacre.
Turkey has detained over 5,000 Daesh suspects and deported over 3,290 foreign terrorist fighters from 95 countries and refused more than 38,269 individuals' entry to Turkey in its fight against Daesh. Daesh is responsible for a string of terror attacks in Ankara and Istanbul, as well as cross-border fire from Syria that has killed a number of residents in Turkish border towns over the last year.
According to Turkey's Justice Ministry, at least 780 people, including 350 foreigners, remain in detention — some of whom have been convicted — for suspected links to the Daesh terrorist group.
Read More...