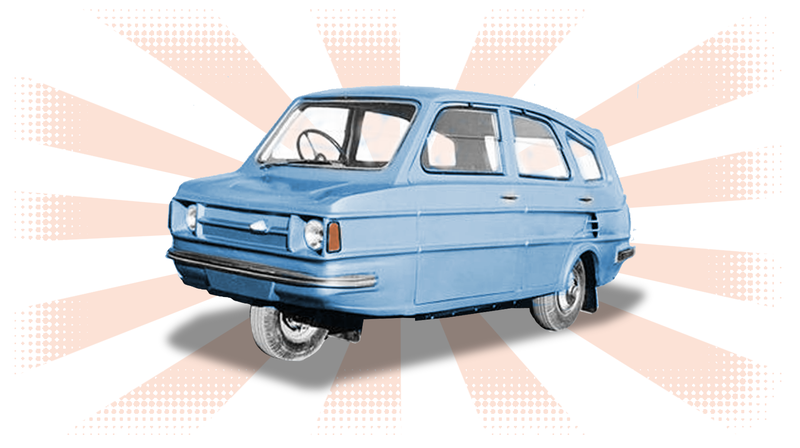 Are you one of the many people who would love to own a Reliant Robin, but feel that it has too many brakes, it looks too conventional, the engine's both in the wrong place and has, like, twice as many strokes as it should, and you'd never want to own a car with a symmetrical arrangement of doors? If that's you then I'm delighted to say I've found the car for you: a SAIL Badal.
Wait, you never heard of the SAIL Badal, or even SAIL as a company? I'll pause while you find a mirror to stare into and then punch, in shame and rage. All good? Okay, let's get you some of the sweet illumination of knowledge here.
SAIL stands for Sunrise Automotive Industries Ltd and was founded in 1974 in Bangalore, India. Like many companies looking to set up an automobile factory from scratch as easily as possible, they looked to Britain's Reliant Motors, makers of the fiberglass-bodied 3-wheeled Robin and the sporty shooting brake, the Scimitar.
Setup Timeout Error: Setup took longer than 30 seconds to complete.
Reliant had a sort-of side business helping to set up carmakers in countries less known for their car-building prowess. Reliant helped Anadol get started in Turkey and Autocars in Israel, for example. Reliant's models were a good place to start, as the fiberglass bodies eliminated the need for costly and complex body stamping machines.
While SAIL (in 1978 the name was changed to Sipani, just FYI) looked to Reliant to get started, the car they designed diverged pretty dramatically from the basic Robin. While the chassis was clearly Robin-derived, a three-wheeler with the single wheel in the front (not the most stable way to do this), SAIL sourced a 198cc Innocenti two-stroke engine from Italy. Just to keep things even more exciting, they mounted that little 12 horsepower, one-piston'd brute in the rear.
Read More...